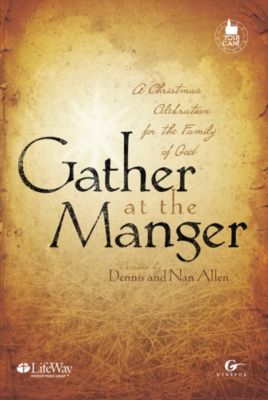 1. Christmas Cantata
- This week in worship we will be enveloped in song as the choir from the Belleview Seventh-Day Adventist Church joins our choir to present the musical, Gather at the Manger, created by Dennis and Nan Allen. This combined choir presentation will surely bless you as you listen to the message it presents. This cantata will feature six songs, narration, solos, and some old favorites. Invite a friend and I hope to see you there.
2. Bible Study
- This week we will conclude our Advent Bible Study entitled, Christmas Gifts that Won't Break. Those are gifts that cannot be lost, that never go out of style, and that are independent of the chances and changes of life. They are the gifts that have been graciously given by God. That is what gives Advent a permanence that speaks to generations past, present, and future. This week we will look to the Gift of Joy. It is never to late to join, so come on out and be a part of this wonderful study.
3. Fellowship Lunch
- This week we will host the choir members and families from the Belleview Seventh-Day Adventist Church as they combine with our choir to present the Christmas Cantata. In order to help display our radical hospitality, I would ask you all to consider bringing a dish to share for our fellowship luncheon after worship. We are expecting about 25-35 extra people and we want to make sure we have enough food for our new friends. Thank you for your consideration.
4. Blue Christmas
- This time of year is intended to be full of hope and joy. It is intended to be a time to celebrate and experience the love of Christ and family. However; for those that have lost someone to death, it can be a time of great sorrow and grief. On Sunday, December 23rd, at 12:15pm, we are going to gather for a Blue Christmas service in our Sanctuary. This service is one of remembrance and hope where we will acknowledge our grief, but also the hope that comes from God's constant presence. I pray you will join us for this time of worship and that you will benefit from the bond it will provide.
5. Ocala Health and Rehab Service
- This Sunday is our week to go and minister to the residents of Ocala Health and Rehab. I want to extend an invitation to all of you to come and join us, Sunday at 2pm. Ocala Health and Rehab is located just down the street from the church on the corner of Lake Weir Road and SE 24th Road. We begin with a few hymns, I give a brief devotion, and we wrap it up with a few more hymns and a prayer. It is a wonderful time of fellowship and spreading the love of Christ. I am sure you will enjoy it and be glad you participated! I hope to see you there!
Have a GREAT weekend and I will see you Sunday!